SWEDISH ART AND BUSINESS AWARDS
Good collaborations between culture and business improve not only cultural organizations and companies but also society at large.

The Swedish Art and Business Award (SABA) is awarded every year to draw attention to successful collaborations between culture, business and the public sector.
REGISTRATION:

Fill in the form below and send to: info@kulturnaringsliv.se
"VANDALORUM IN VÄRNAMO & THE REGION'S ENTREPRENEURS" WINNERS 2019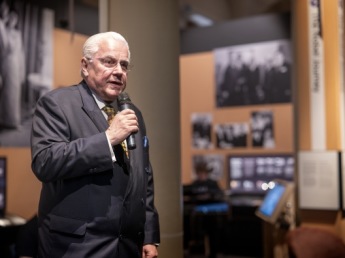 HRH Prince Carl Philip presented the award to Vandalorum's Chairman of the Board Jan-Ove Forsell Vandalorum in Värnamo has together with the region's entrepreneurs built a center for art and design in Värnamo which has become a center for creativity far beyond the region and contributed to the companies' development.

The jury's motivation is: Vandalorum in Värnamo has become a gathering place for art and design in three Småland counties but also on a national level. With a unique financing model, the local and regional business community has made an exceptionally high contribution to the economy and development of Vandalorum. The now completed and commissioned Stage 2 with new buildings and expanded program operations strengthens Vandalorum's role as a center for art and design. All with the aim of strengthening creativity; something that is necessary for the long-term survival of companies. Vandalorum is a clear illustration of how cooperation between culture and business strengthens both parties

The award was presented by HRH Prince Carl Philip at the Nobel Museum in Stockholm.